A Little About My Aviary and Me~
Please read this page for INVALUABLE information on bird care and good breeding practices. Feel free to email me if you have any questions.
Angel Wings Aviary got it's name from my 2 pet birds- Dudley the Nanday and Clarence the Senegal. They were named after the angels in my 2 favorite movies. Not to mention that birds are like angels here on earth flying about giving us pleasure and a little bit of peace too. (But not too much during breeding season!)

All of my baby birds are hand-fed, hand-tamed and friendly pet quality birds. I have a large family and just about everyone pitches in with some aspect of the bird's care. They are well socialized by my large family.
I WILL NOT sell any birds UNWEANED
and make sure that each new owner has instrucions and information on health, care and housing for their new family member when they leave here.

My name is Dawn and I have been interested in birds for about 12 years.
I started out with a single lovebird that I bought myself for my birthday. The following month I got him a mate and a pair of cockatiels. I did alot of things wrong with those birds and learned the hard way about diet and cage requirements, and general care of birds.

We now have the internet and a vast resource of information is at our fingertips. I have included links to a few sites that have information on birds for the novice or the professional birder on the links page.

I have written several articles about basic bird care and how to choose a breeder/bird for several on-line newsletters as well.

Although I am a busy work at home/out of the home Mom, I take the time to name all of my birds and to handle them as often as I can to check for weight loss and general well being. I feel this also helps with the breeding process as it makes them tolerant of my peeking in the nest boxes to make sure they are sitting as they should- and because I just hate waiting for those eggs to hatch! There is nothing as wonderous as watching that little egg pip and seeing the tiny little bird come out of that shell. The only thing close is childbirth- this from a woman who has borne 6 children ! I have no intention of having more children of my own so I have transferred my motherly tendencies to my birds. And they love it as much as I do!

Birds Available and Other Services ~
I am no longer breeding small parrot species- lovebirds, cockatiels, senegals, meyers, ringnecks and parrotlets... but I will take the time to answer questions about your new bird and will provide hand-feeding services for those who are local and need a reliable person to raise a bird they have purchased.
If you have never seen a parrotlet you really must! They have a BIG macaw personality wrapped up in a 4-5 inch body. They also have the intelligence of the larger birds which makes for some very entertaining interaction!

See parrotlets at WWW.theparrotletranch.com.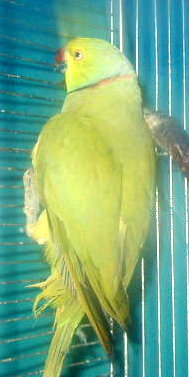 Angel Wings Aviary--- Updated 6/17/2010