Parrotlets
Here are some lovely Pacific Parrotlets... at one time we had the nominate (green) series as well as blue and yellow mutations. These are wonderful birds and make terrific pets- for first timers and experienced bird owners alike.
Carolina Blue- A Blue Pacific Mutation hen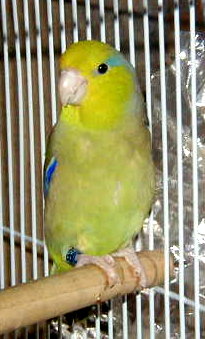 Cosmo Cola- A Blue Lucida male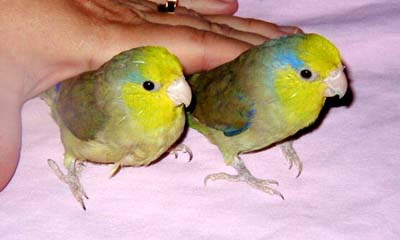 Limon ( left) and RC Cola (right)~ both are Lucida males

Note the color differences in these 2 males. They are same age, but the intensity varies from bird to bird.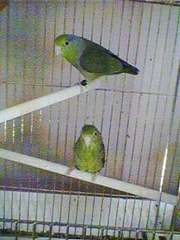 Male and Female Pacific or Celestial Parrotlets.
The Male is RC Cola- Cosmo Cola's son. The Female is Shasta Col- the daughter of Limon.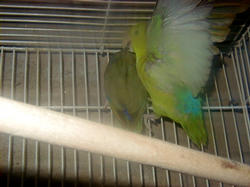 Male and Female Lucida Pacific Parrotlets
You can see the blue on the rump of the heb that singles her out as a Lucida hen... notice the paler hue compared to Dewey. Note that Lucida hens have not blue on their wings.